USB calibrated measurement microphone for a plug&play measurement of your system.
Highlights
Windows/Mac/Linux
All measurement software
Special features such as calibrated SPL measurement enabled under free Room EQ Wizard (REW) software
Frequency response: 20 Hz - 20kHz +/-1dB with calibration loaded
USB Audio: USB Audio class 1.0 Driverless interface for Windows, Mac & Linux
Product Details
UMIK-1 Omni-Directional USB Measurement Calibrated Microphone
The UMIK-1 is an omni-directional USB measurement microphone providing Plug & Play acoustic measurement. From speaker & room acoustic measurement to recording, this microphone provides low noise and accurate results you can rely on. Forget about driver installation, OS compatibility and un-calibrated mics. The Umik-1 is a USB Audio class 1 device automatically recognized by all Operating Systems (Windows/Mac) and Ipad with Camera Connection Kit. It is provided with a unique calibration file based on the serial number to insure an accurate measurement. Combined with our recommended acoustic measurement software, it is the perfect match for a plug&play measurement system.
Documents
What's in the box?
1 x UMIK-1 microphone
1 x shielded USB cable (1.5m)
1 x mini Tripod
1 x foam wind screen
A padded plastic case
Unique Calibration File Download
All UMIK-1 are calibrated with a unique calibration file. In addition, a unique auto-generated 90-degree calibration file for use with the nanoAVR DL is provided. To download the calibration files, look for the 7 digit Serial Number found on the body of the microphone.
Please use a direct link: http://www.minidsp.com/images/umik/70xxxxx.txt  (where xxxxx is the unique mic SN#)
Which calibration file should I use and where to point the UMIK-1?
We provide two calibration files to be used depending on your application.
For stereo system (e.g. 2ch dirac live, single speaker measurement), use the 0deg file and point the UMIK-1 at the speakers
For multichannel system (E.g. 5.1/7.1) or a surround application where multiple speakers are spreadout around the room, use the 90deg file and point the UMIK-1 at the ceiling.
Mechanical Specifications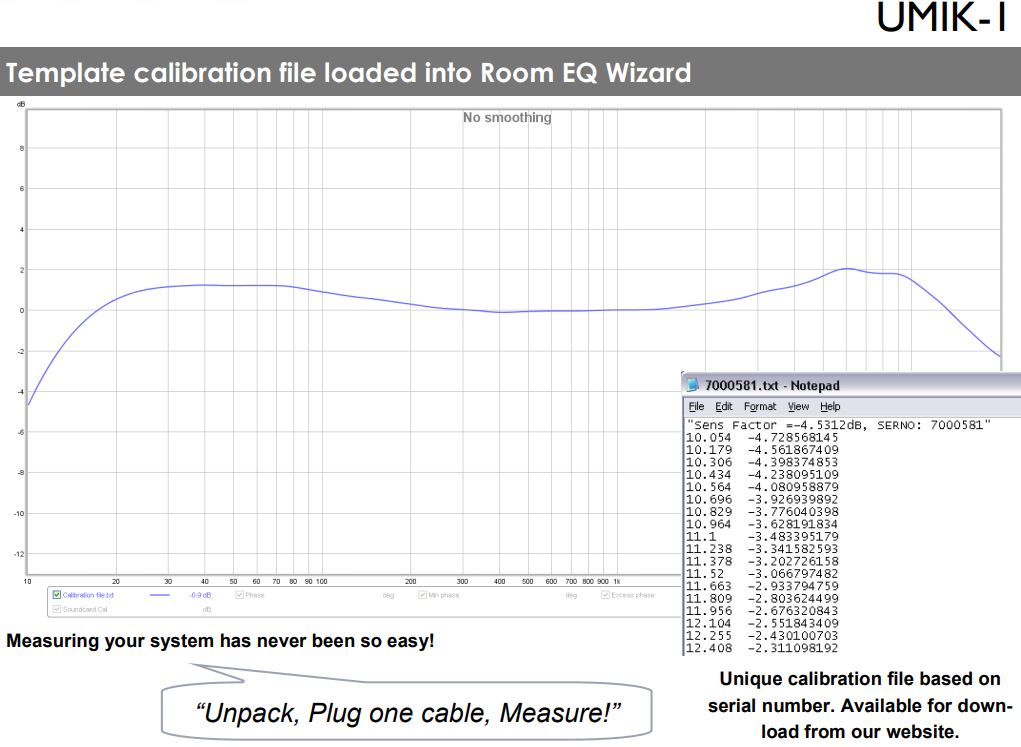 PRODUCT SPECIFICATIONS
Item

Description

Capsule Type & Polar pattern

6mm electret, Omni-Directional

Microphone body

Die cast aluminum

Frequency response

20 Hz - 20kHz +/-1dB with calibration loaded

USB Audio

 

USB Audio class 1.0

Driverless interface for Windows, Mac & Linux

Resolution & Sample rate

24bit ADC @ 44.1 or 48kHz

Max SPL for 1% THD @ 1kHz

133dB SPL @ 0dB gain setting

Output noise level at max IGPA

-74dBFS

Calibration file

 

Unique microphone calibration .txt file referenced to the Serial Number Includes on axis Frequency / Amplitude / Sensitivity drift

Power

USB Powered (5V) - Blue LED indicates unit under Power

Weight

120gm for microphone, 600gm complete kit with accessories

Connector

miniUSB connector

Accessories

 

 

 

 

1 x black plastic hard case

1 x 2m long USB cable

1 x pivotal microphone mini-stand

1 x microphone clamp

1 x wind screen
-
Easy use, quick results. I'm working on car stereos with it.
No hassle, plug and play, easy to download correction file, REW support, what more could you want? Great quality build and portable since it is usb and does not need phantom power. Comes with a simple, small stand of good quality and the USB cable it comes with is a good length. Accuracy of captured results are in line with professional results. Considering price, service and user-friendliness it would be hard to find a better calibration microphone.
Very high quality bit of kit. Well packed, nice design, and seems to do the job very well. I used it with Dirac room correction.
Great and economical measurement mic, perfect eith REW app
Very satisfied.
No description was given
No description was given
fantastic...
No description was given
No description was given
Well worth the money. Easy to use with REW software without the need of additional equipment.
Love this product. Easy to use and very afforable!
Great tool for reasonable price. Must have for everyone for whom sound quality matter.
No description was given
Great easy to use product!
A+++
Perfect device who knows what to do with it :)
I'm going to use with the Amarra player
I give this product 5 starts for several reasons
-Super easy to use
-Can be used for all kinds of different measurements (speaker measurement/room measurement etc.)
-All the accesoires included in the package have an high quality feel

I used this product to measure my speakers. It took a bit of time to use al the different options and to see which options gave me the best/most accurate measurement. It was fun to do and thanks to the easy software the learning curve was not to steep. The only things that were slightly missing is an bigger stand for the mic and an longer USB cable. But that is not something you could expect for this price