MiniDSP 2x4, a low cost Digital Signal Processor for audio applications. Great sound in a tiny package.
Highlights
28/56bit DSP Engine
24 bit ADC/DAC resolution
48kHz sampling rate
Unbalanced inputs switchable with a jumper between 0.9Vrms and 2Vrms
Unbalanced outputs: Max 0.9Vrms
Nichicon Muse Audiophile capacitors
Volume control by potentiometer on 3pin header
Plug&Play USB driver and real time Software configuration using miniDSP plug-ins
Device does not required a PC once configured
USB self powered device and wide range of DC power options (4.5 to 24VDC)
Coupon for one free Plug-in download
Product Details
miniDSP 2x4 Boxed Digital Signal Processor
The miniDSP 2x4 in a box is a flexible pocket size DSP processor with 2 x analog IN, 4 x analog OUT. Combined with a plug-in software for programming, one can configure the on board Audio processing filters real time from a PC or Mac environment. Once the board configured, the device operates standalone and doesn't require a computer anymore. For more information on potential applications, please check the application section of our website.
Documents
System Diagram

Mechanical Specifications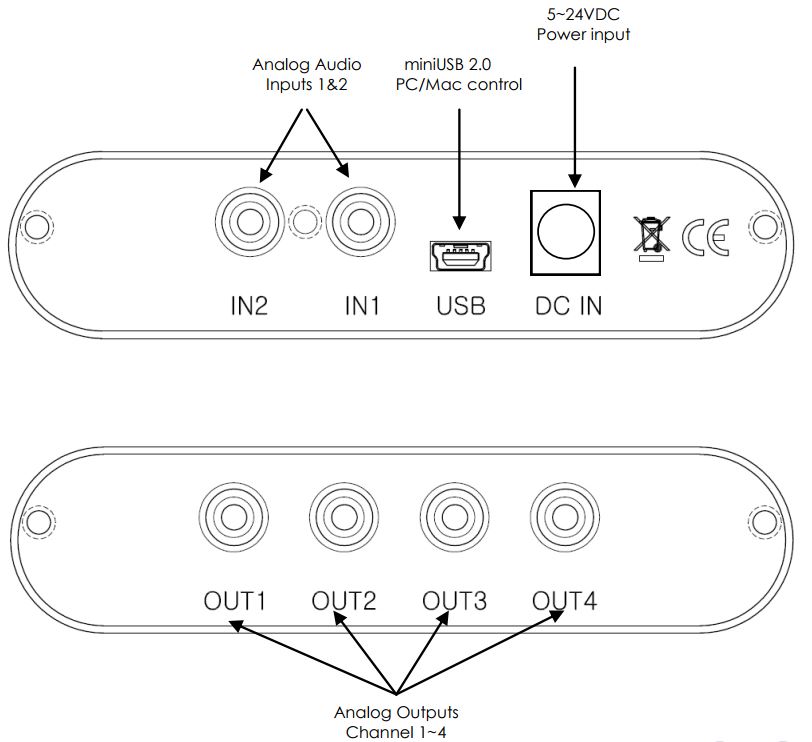 PRODUCT SPECIFICATIONS
Item

Description

Digital Signal Processor Engine

28/56 bit Digital Signal Processor Engine / Double precision processing

Host Processor

48MHz microcontroller

Sample rate

48kHz

ADC/DAC Data resolution

24 bits

Analog Audio Input

Unbalanced input, RCA terminated

Maximum input level

0.9Vrms (RevA) or 2Vrms (RevB)

Dynamic range ADC, un-weighted

>98dB

Input impedance

6Kohms

Analog Audio Output

Unbalanced input, RCA terminated

Maximum level, unbalanced,

0.9Vrms (2.5Vpp)

Dynamic range DAC, un-weighted

>98dB

Output impedance

560ohms

Certification

CE / FCC certified - ROHS compliant

Power supply

 

 

Powered from USB cable

5 ~24Vdc input via DC 2.1mm round connect Current requirement: 150mA @5V

Dimensions (H x W x D)

26x107x94 mm
works just like its supposed I bought it for the lpf and hpf and they work brilliantly +small size
very happy with this thing.
Excellent little "Gizmo" that just has the whole package. Endless possibilities of tweaking your active speaker system, which in the end gives a significant better result! I have used the miniDSP 2x4 numerous times, and every time has it impressed me with how cheap all these features can be obtained.
De miniDSP, doet waar hij voor is!
Ik heb het gebruikt om de pieken en dalen van mijn dual subwoofer opstelling uit te vlakken. In combinatie met de Umik-1 microfoon en REW software is dit een eitje.
En wat een verschil! Room response nagenoeg vlak!

En nog 2 kanalen over voor eventuele uitbreiding van mijn systeem!
The product has great value for the money. For only €120,- you get an DSP that can be used for many applications.
I used my MiniDSP for filtering a 2 way speaker. After i set up the 4 channel amplifier it took me only 5 minutes to let the speakers work very nicely. It will take a lot of time to improve the sound of my speakers, but with the MiniDSP being interactive it was possible to try out filter changes while the music is playing.

I will in the near future try out the MiniDSP 2X4 HD to find out if you will hear the higher sampling rates and the higher Vrms of the 2x4HD
The MiniDSP is a great product. Every sound-Guy should have one! You can EQ a location in just minutes! together with the REW software (open source). Fast shipping and great support! Swapping from a 2x4 to a 2x4HD was no problem and solved smoothly!
if I may suggest: MiniDSP should be also available in an assymmetric XLR version... Even now there is not an real issue, for bands on the road it would be a bit easier to implement in the sound chain...