The Dayton Audio MK402BT offers incredible sound quality and an outstanding feature set in an unbelievable size. With built-in Bluetooth and an auxiliary input, playing virtually any media is possible. The MK402BT creates a soundstage that is sure to awe even the harshest of critics.
Highlights
Bluetooth version 4.2 allows high-fidelity wireless audio playback
The built-in amplifier makes connecting these speakers simple and hassle-free
4" treated paper woofer optimized for low-frequency extension
3/4" tweeter offers a very airy top end to create a beautiful ambiance
Attractive textured, black vinyl finish that stands out
Product Details
Dayton Audio MK402BT Powered Bluetooth 2-Way Bookshelf Speaker Pair with 3.5mm Aux In
The MK402BT offers the same fantastic sound quality and articulation as the original but adds the wonderful amenity of a wireless connection. The built-in amplifier on the MK402BT is able to provide up to 80 watts of max output power, easily enough to power these speakers. The MK402BT also allows you to change tracks, volume, and even pause/play songs from the speaker itself.
Beauty More than Skin Deep
The MK402 features an attractive textured, black vinyl finish that stands out at first glance. The cabinet offers a unique geometric design for the baffle that sets it apart from much more basic speakers in its price range. The grill is removable and made of a high-quality black cloth that discretely obscures the most appealing features of this design, the drivers.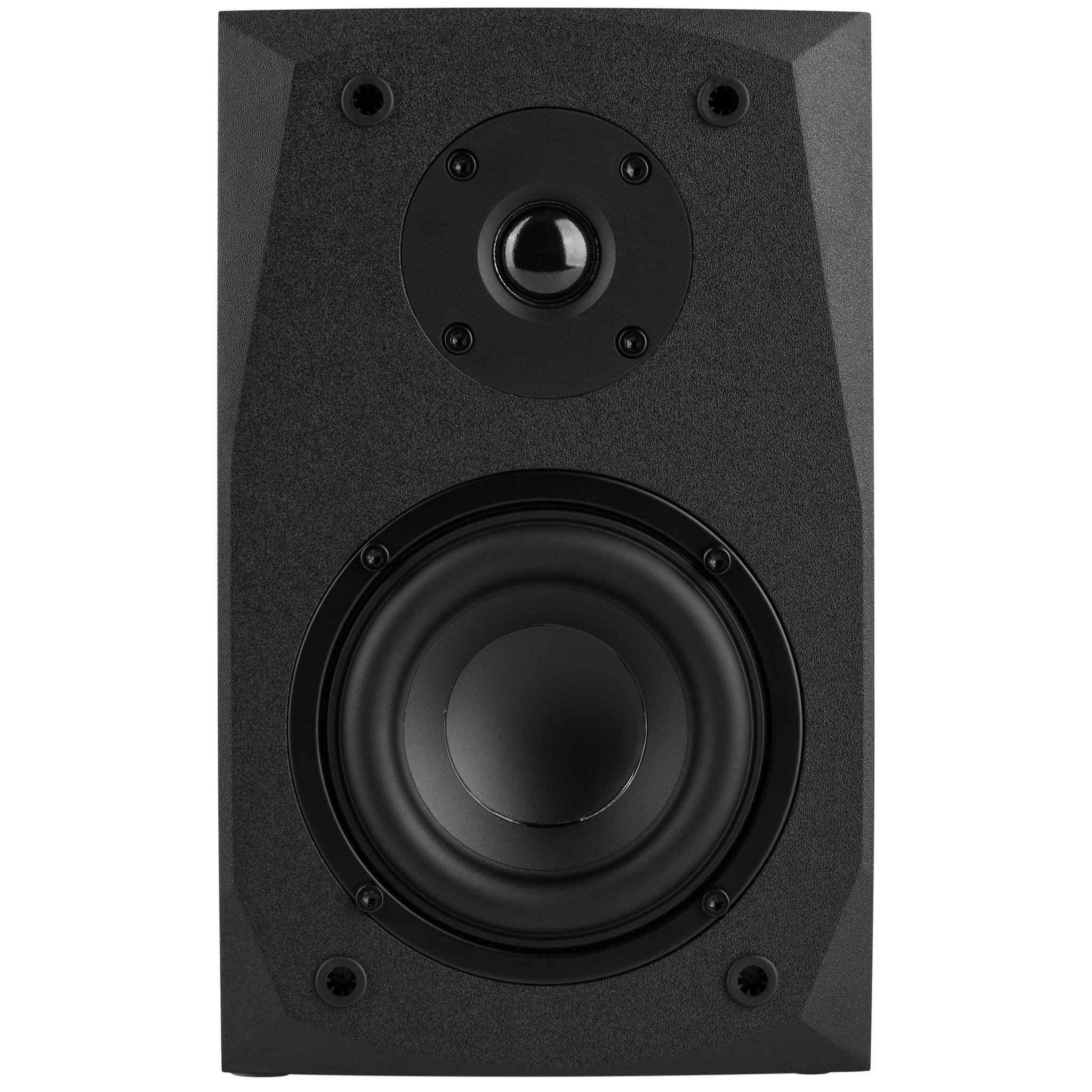 Elegant 3/4" Silk Dome Tweeter
The 3/4" tweeter is elegant with a very airy top-end that can be appreciated by anybody that enjoys the delicate side of music that is often left behind by most speakers. The dispersion from this tweeter provides a life-like ambiance that truly sets a scene for the music.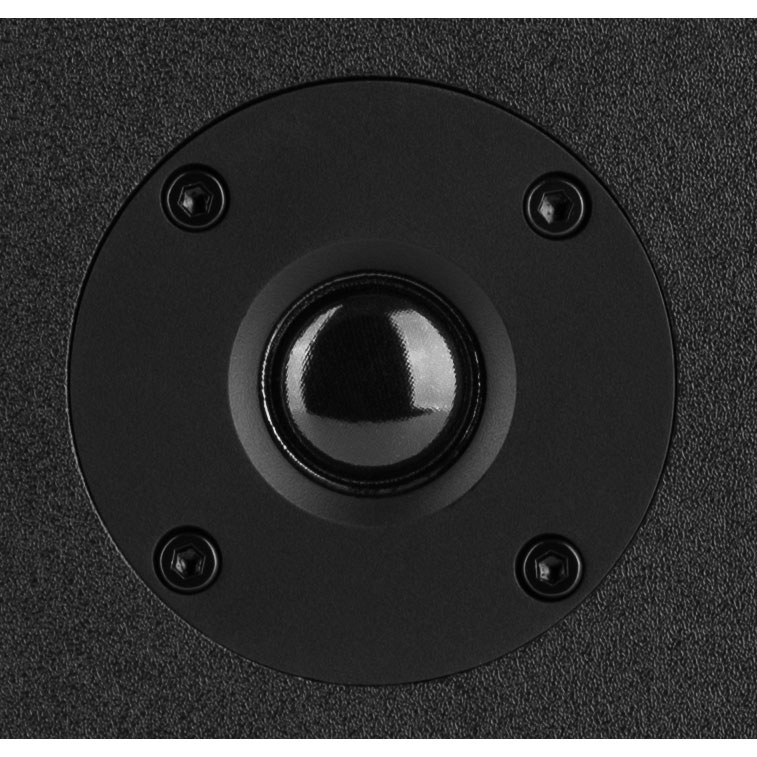 Impressive Low Frequency Extension from a 4" Woofer
The woofer is able to play down to the 60 Hz range with ease. A 4" woofer playing low frequencies would normally limit the upper-frequency range, that is not the case here. The woofer plays through a substantial portion of the vocal range, adding coherency and smoothness to music.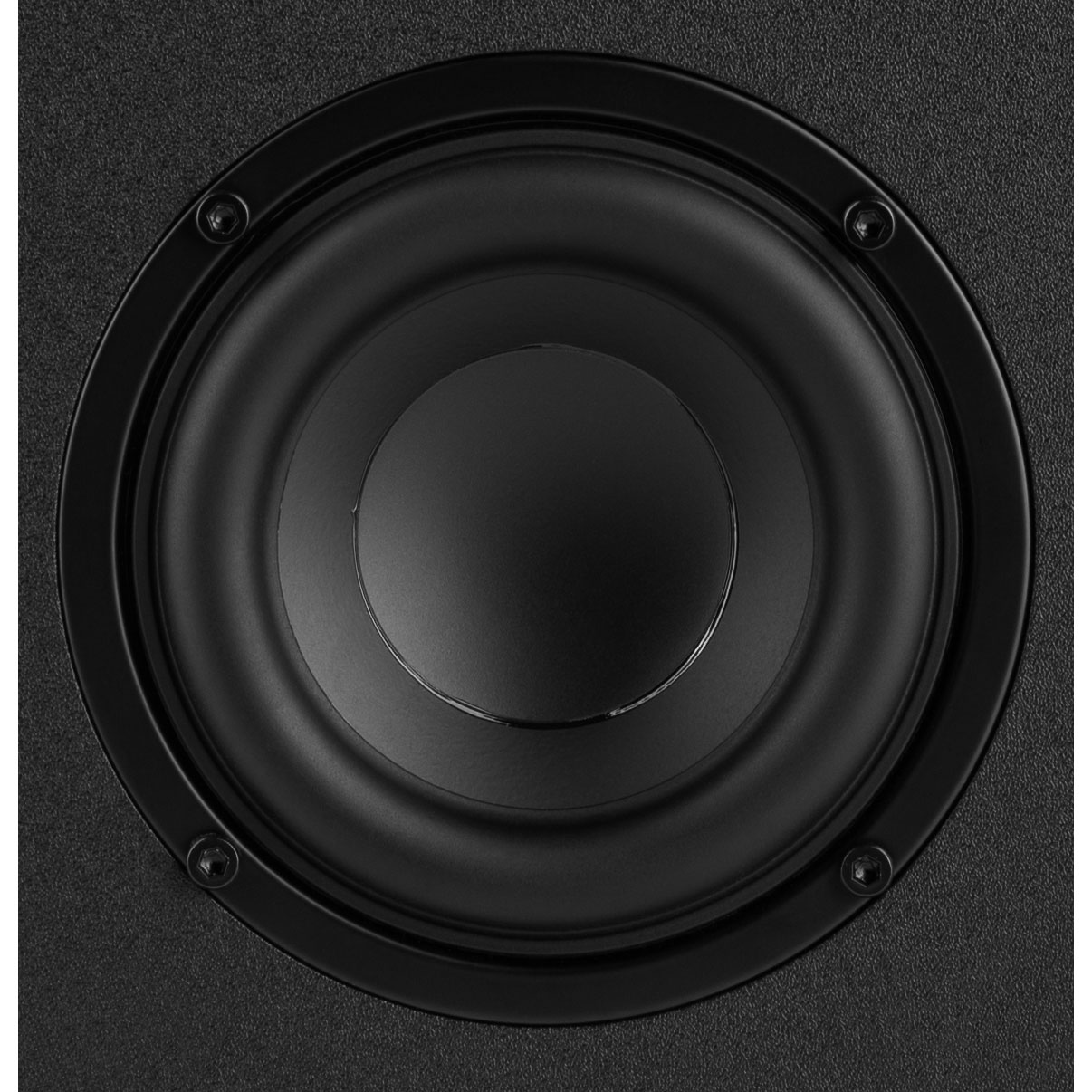 Control at Your Fingertips
The MK402BT can be controlled via the controller atop the active speaker. This controller allows you to set volume, start and stop playback, and change the source.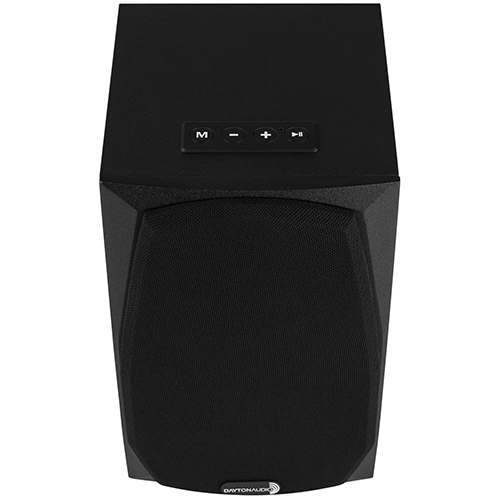 Specifications
• Design: 2-way vented bookshelf • Woofer: 4" high-excursion driver with a treated-paper cone • Tweeter: 3/4" soft dome • Finish: Black vinyl • Output power: 40W RMS/80W max • DC power input: 18VDC, 2A (120V AC adapter included) • Response: 60-20,000 Hz • THD+N: <0.7% • Crossover: 2.5 kHz; 2nd order low pass, 3rd order high pass • Bluetooth: 4.2 • Port tuning: 50 Hz • Amplifier Chipset: TPA3116D2 • Bluetooth Chipset: CW6631B • Included accessories: 6.5 ft. of speaker wire, 5 ft. 3.5mm cable, power supply, and manual • Dimensions: 9-1/2" H x 5-3/4" W x 6-5/8" D.*
*Depth includes removable grill.