miniDSP USBStreamer Kit Multi-Channel 10x10 USB audio to Toslink/I2S/ADAT interface
USBStreamer is a native 24/192kHz multi-channel (10x10) USB audio to Toslink/I2S/ADAT interface.
Highlights
Up to 10 x IN, 10 x OUT multi-channel USB audio interface
Wide range of digital IO format depending on the loaded firmware: I2S (8x8) + TOSLINK(2x2), ADAT (8x8) or TDM (8x8 at 48/44.1k only)
Native support up to 24bit / 192kHz
USB 2.0 High speed and Audio class 2.0 device
Asynchronous USB synchronization
Thesycon ASIO Win driver provided with support for Win10 (signed drivers)
Driverless support under Mac OSx. Sound card aggregate mode allows combining of multiple units
Linux compatible with ALSA 2.0 drivers
Toslink (optical) transmitter and receiver
Flexible board powering option: USB powered or External DC input power
Coupon for one free Plug-in download
Product Details
USBStreamer Kit Multi-Channel 10x10 USB audio to Toslink/I2S/ADAT interface
The USBStreamer is a miniature 24/192 multi-channel USB to Toslink/ADAT/I2S/ TDM interface. Packaged on a tiny PCB of only 2.4" by 1.4" (40x62mm), this interface is the perfect fit for OEM integration or as an element of a customized high performance A/V product for up to 10 channels of bidirectional audio streaming.
The USBStreamer utilizes high speed USB2.0 along with the Audio Class 2.0 implementation to simultaneously provide up to 10channels of playback along with 10channel of recording. Out of the 10channels, 2ch are provided on the Toslink interface with the remaining provided on the I2S expansion connector. The dongle is up & running in a matter of seconds with compatible drivers for both Mac/Windows platforms. An easy and flexible system integration that follows the footsteps of the miniDSP product line. From a high end stereo USB interface to a multi-channel USB interface, the USBStreamer is an innovative yet cost effective USB 2.0 audio interface for a wide range of custom A/V products.
What's in the box?
1 x USBStreamer board
1 x 1m long USB audio cable
2 * Toslink audio cables
2 * 2x6pin (2mm pitch) header cable harness for I2S In/Out interfacing
Mechanical Specifications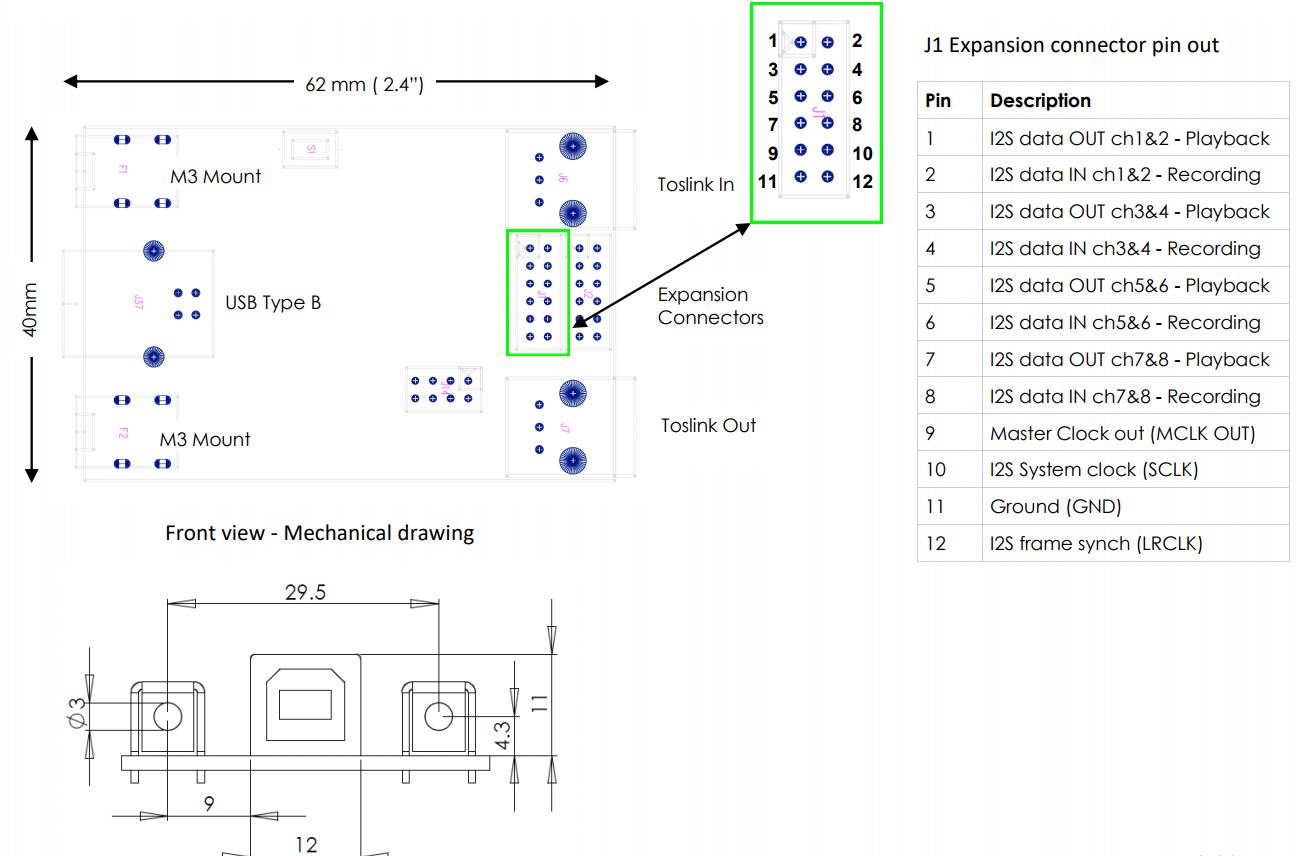 PRODUCT SPECIFICATIONS
Item

Description

USB Streaming engine

XMOS L2 core / USB 2.0 full speed - USB Audio class 2.0 compliant

Capabilities

 

 

 

I2S + Toslink firmware: 8ch via I2S + 2ch Toslink (bidirectional) Stereo firmware: 2ch I2S + 2ch Toslink (bidirectional) ADAT: 8ch @ 48k bidirectional on optical receiver/transmitter TDM: 8ch audio bidirectionnal

Drivers

 

 

 

 

 

Driverless interface for Mac OS X v10.6.4 and up

Thesycon Windows ASIO driver provided (XP/Vista/7/8/Win10)

Linux Alsa compliant driver

Apple IoS (ipad/iphone) using Camera kit - multichannel audio streaming

I2S/TDM format for input/outputs

 

 

 

 

24 bits I2S master mode

Sample rate: 8/11.025/12/16/22.05/24k/32k/64k 44.1/48/88.2/96/176.4/ 192kHz

TDM mode: 8ch @ 48k / input and output on I2S_data_in1/out1.

Optical input

 

 

Toslink sample rate: 44.1/48/88.2/96/176.4 kHz

ADAT sample rate: 8ch ADAT mode @ 48/44.1k

Optical output

 

                          

Toslink sample rate: 44.1/48/88.2/96/176.4 kHz

ADAT sample rate: 8ch ADAT mode @ 48/44.1k

Expansion connector

2 x 12pin, 2mm pitch expansion connector for connectivity to hardware.

Mounting

2 x Right Angle brackets allow easy chassis mounting with M3 threaded hole

Power supply

USB powered OR 5Vdc external supply via header - 300mA requirement

Dimensions (H x W x D) mm

13 x 40 x 62 mm