miniDSP DDRC-88A 8xIN, 8xOUT Dirac Live
8xIN, 8xOUT Dirac Live® correction DSP with Balanced & unbalanced Input & output. Boxed in sturdy 1 RU metal enclosure.
Highlights
Processor: 32-bit floating-point Analog Devices SHARC DSP
Input/ouput resolution: 24 bits
Analog inputs: 8x balanced RCA / 8x balanced phoenix terminal blocks
Analog ouputs: 8x balanced RCA / 8x balanced phoenix terminal blocks
Internal operating sample rate: 48 kHz
Optional DDRC-88BM plugin for Bass Management + Dirac Live + Active Speaker processing (Crossover/PEQ/Delay)
Coupon for one free Plug-in download
Product Details
DDRC-88A
Introducing the miniDSP Dirac Series, powered by Dirac Live®, the world's premier room correction solution. We are delighted to offer you this software and hardware combination, the fruit of many years of experience in sound system tuning and extensive research and development. The DDRC-88A is the big brother of the stereo DDRC platform introduced early 2014. Based on our proven 8x8 DSP board and miniSHARC powerful module, the DDRC-88A combines two successful & proven platforms into a cost effective one rack unit processor. An infrared remote learning feature and the front panel rotary encoder allow for control of the DDRC-88A processor without any need for a connected PC, once the processor is configured and filters loaded.
Finally, the DDRC-88A is an upgradable platform thanks to the power of the DDRC-88BM plugin. The software plug-in extends the capabilities of the DDRC-88A multichannel Dirac Live® processor. 100% compatible with all DDRC-88A units in the field, the DDRC-88BM adds comprehensive fine-grained bass management and crossover capabilities. The input signals are low-pass filtered and summed to generate the subwoofer signal; a matrix mixer routes or mixes these channels for the Dirac Live® algorithm, which in turn has its outputs routed or mixed to the output channels, where additional high/low pass and parametric filtering takes place. In addition to improved bass management for conventional home theater signal paths, the DDRC-88BM allows innovative solutions like multi-subwoofer control and combined DRC/active loudspeaker setups.
Documents
What's in the box?
Dirac Series audio processor — DDRC-88A
Universal 12 VDC power supply with IEC power cable
USB cables for Dirac Series audio processor
NOTE: The Dirac Live Calibration Tools for miniDSP software is only compatible with the miniDSP UMIK-1 microphone for measurement.
Optional Accessories
Typical Application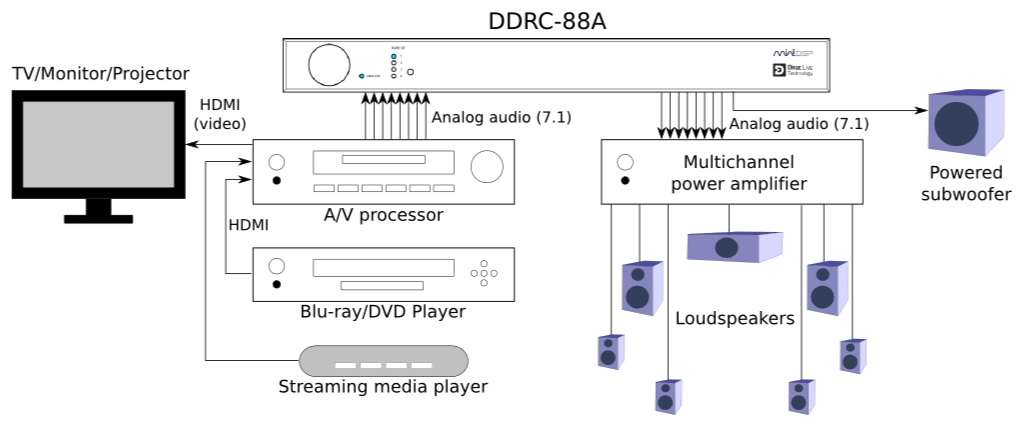 System Diagram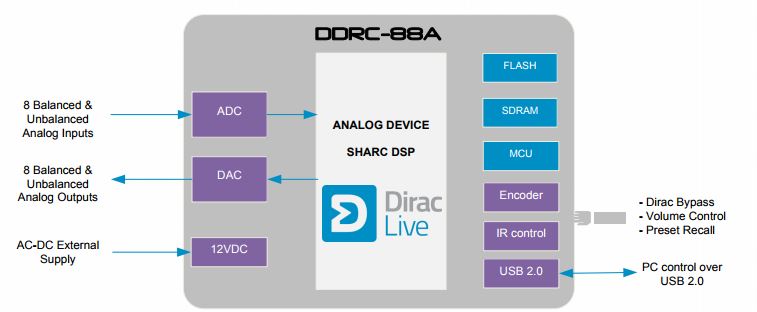 Mechanical Specifications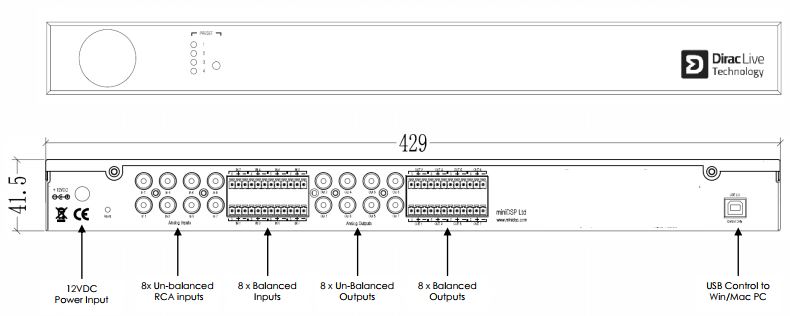 PRODUCT SPECIFICATIONS
Item

Description

Digital Signal Processor

32bit Floating point Analog Devices SHARC ADSP21369 / 333MHz

Sample rate / Resolution

 

Resolution: 32bit

Sample rate: 48kHz

Control

 

 

Driverless USB 2.0 control interface for Windows/Mac environments

A computer is required for the initial configuration of the product

Audio inputs

 

8 x Balanced (Terminal Block) or 8 x Unbalanced (RCA) inputs

114dB ADC IC / Measured SNR 105dB

Audio outputs

 

8 x Balanced (Terminal Block) and 8 Unbalanced (RCA) outputs

114dB DAC IC / Measured SNR 105dB

Maximum Input signal

 

 

Unbalanced Input ( RCA): 2Vrms (+8 dBu) or 0.9Vrms (depending on jumper)

Balanced Input (Terminal block): 8Vrms (+20dBu)

Maximum Output signal

 

 

 

 

 

Dip switch on motherboard attenuates outputs by 6dB (RCA & Terminal blocks)

Unbalanced outputs (RCA): 2Vrms (+8 dBu) or 1Vrms

Balanced outputs (Terminal block): 8Vrms (20dBu) or 4Vrms (+14 dBu)

DIP switch configured to LOW output position by default. See user manual.

Dirac Live Correction Suite for miniDSP

 

 

 

 

 

 

 

Plug&Play configuration from Dirac Live Calibration Tool for miniDSP

* Impulse response correction

* Frequency response correction

* Freely edit target curve, unlimited break points

* Automatic target functionality

* Shows average measurements

* Chair and sofa measurements for up to 9 measurements

FIR filter storage

Up to 4 filter configuration filters stored on unit

USB port

USB port type B for real time control and firmware upgrade

Power supply

12VDC single supply / 2.1mm round plug

Dimensions (H x W x D) mm

41.5 x 429 x 252 mm - 1RU height / Includes removable rack mount ears