Digital to Analog Dirac Live® correction DSP with SPDIF/AES-EBU/Toslink Input, Balanced audio output. Boxed in sturdy metal enclosure.
Highlights
Processor: 32-bit floating-point Analog Devices SHARC DSP
Input/output resolution: 24 bits
Maximum input sample rate: 216 kHz
Internal operating sampre rate; 96 kHz
Output sample rate: 96 kHz
Coupon for one free Plug-in download
Product Details
miniDSP DDRC-22DA Stereo DAC High-resolution Dirac Live Audio Processor
The Dirac Series of 24/96 high-resolution audio processors with Dirac Live® are designed to fit into an existing system with minimum disruption, yet with the flexibility to allow for new and more cost-effective system configurations. The DDRC-22DA interfaces input sources via digital signals — AES-EBU on balanced XLR; coax/SPDIF on RCA, and optical/TOSLINK. On the output side, the balanced analog audio output can drive balanced or unbalanced audio amplifiers. The digital input source can be selected via the front panel or remote control. The DDRC-22DA is essentially a DSP powered DAC that can be simply inserted between a digital source (e.g. CDplayer/PC/AVR..etc) and an amplifier.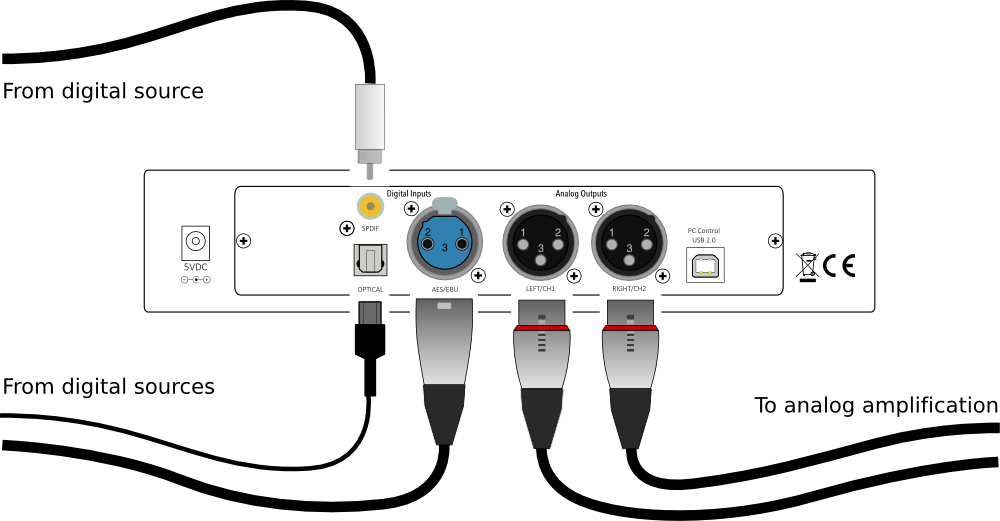 Documents
What's in the box?
Dirac Series 24/96 high-resolution audio processor — DDRC-22DA
Universal 5 VDC power supply with interchangeable plugs (UK/EU/US/AU)
License for Dirac Live Calibration Tool Stereo for miniDSP (Win/Mac)
USB cables for Dirac Series audio processor
NOTE: The Dirac Live Calibration Tools Stereo for miniDSP software is only compatible with UMIK-1 microphone for measurement.
System Diagram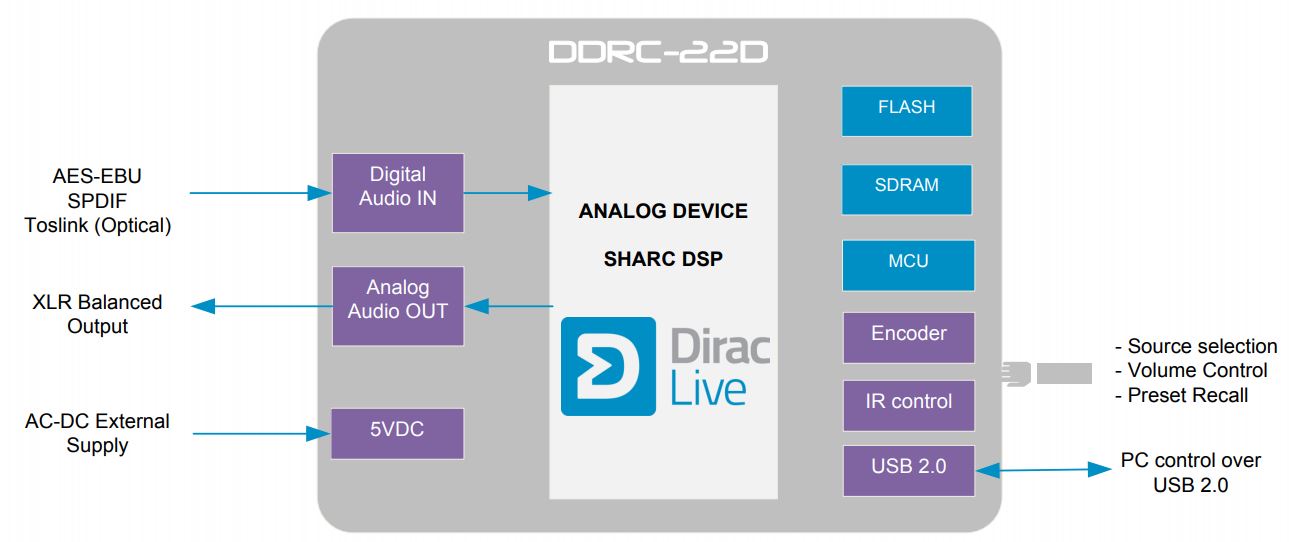 Mechanical Specifications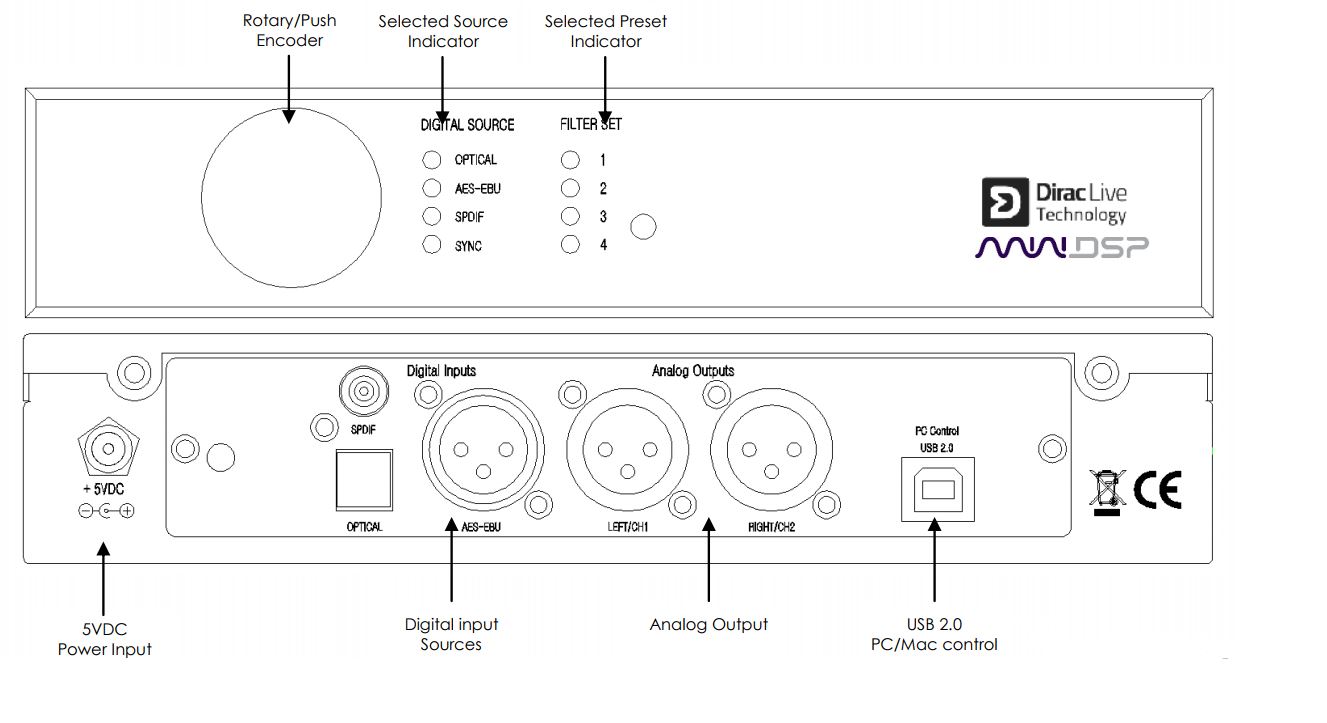 PRODUCT SPECIFICATIONS
Item

Description

Digital Signal Processor

32bit Floating point Analog Devices SHARC ADSP21369 / 333MHz

Control

 

 

Driverless USB 2.0 control interface for Windows/Mac OSx environments

A computer is only required for the initial configuration.

Digital Audio inputs

 

 

 

 

 

 

 

 

Digital audio source selectable from IR remote or Front panel:

- AES-EBU on Neutrik 3pin female XLR / Isolated with digital audio transformer

- SPDIF on RCA connector / Isolated with digital audio transformer

- Toslink on Optical connector

The input signal is processed by a high quality onboard Asynchronous Sample

Rate Converter for compatibility with most common sample rate (20-216kHz)

Analog Audio outputs

 

 

- Fully balanced audio on Balanced Neutrik XLR connector

- ESS DAC 9023 with 112dB SNR

- Max output: 2Vrms

Sample rate / Resolution

 

Resolution: 32bit

Sample rate: 96kHz

Dirac Live Correction Suite for miniDSP

 

 

 

 

 

 

 

Plug&Play configuration from Dirac Live Calibration Tool for miniDSP

· Impulse response correction

· Frequency response correction

· Freely edit target curve, unlimited break points

· Automatic target functionality

· Shows average measurements

· Chair and sofa measurements for up to 9 measurements

FIR filter storage

Up to 4 filter configuration filters stored on unit

USB port

USB port type B for real time control and firmware upgrade

Power supply

5VDC single supply / 600mA @ 5V - 2.1 round plug

Dimensions (H x W x D) mm

41.5 x 214.5 x 200mm