Dayton Audio DTA-120BT Class D Mini Amplifier 60WPC With Bluetooth
The small and powerful Dayton Audio DTA-120 Class D amplifier installs virtually anywhere. It produces big-amp sound while occupying minimal space on your desk or A/V cabinet.

Highlights
Audiophile-quality sound reproduction, extremely low distortion, fits almost anywhere
Ultra-quiet 103 dB signal to noise ratio (A-weighted)
40 WPC continuous into an 8 ohm load, 60 WPC continuous into a 4 ohm load
Front-mounted 3.5 mm input and rear RCA inputs
Quad mini binding posts accept bare wire or banana plugs
Compact extruded aluminum heat sink enclosure
Thick, stylish black-anodized aluminum face plate
Bluetooth 4.2 with aptX technology for wireless Hi-Fi listening (Bluetooth Version only)
Product details
Dayton Audio DTA-120BT Class D Amplifier 60WPC With Bluetooth
Dayton Audio has revamped the popular DTA-100 mini amplifier with an all-new design that improves on every part of the DTA-100's performance. The result is the Dayton Audio DTA-120 Class D digital amplifier. It's everything you need in a mini amp, delivering the performance of enormous hi-fi gear, and smart features you'll wonder how you lived without...and thanks to the space-saving design, it fits and installs practically anywhere!
Big-Amplifier Power
The DTA-120 amplifier delivers the power of a monster amplifier, but in a tiny package. Thanks to Tripath's proprietary Class D technology, plus a robust Dual Parallel BTL configuration, the DTA-120 tackles the toughest speaker loads with ease -- while delivering the sound quality and low distortion of a conventional Class AB amplifier. The dual-power-chip design delivers 60 watts (RMS) per channel of efficient power into an 4 ohm load (up to 120 watts total), and 40 watts (RMS) into 8 ohms – continuously, with no reduction in output. That means powerful bass and clear output that keeps on going, even with the most demanding speakers.
Convenient, Small Size
With the DTA-120 amplifier, you get the most power possible from the smallest footprint imaginable. At under 3-1/2" wide, 2-1/4" tall, and 6" deep, the DTA-120 delivers more power per cubic inch than any other mini amplifier. All this is thanks to the revolutionary, cool-running Class T digital PWM amplifier technology and the extruded aluminum heatsink case. The robust external switching power supply hides out of sight. But since it can supply high current with even higher peaks, the DTA-120 can easily drive HUGE speakers.
High-End Features and Quality
The DTA-120 amplifier delivers the features you expect in a much more expensive amplifier, at a fraction of the size and price. The housing is black-anodized aluminum, with a thick machined faceplate and a silky-smooth volume control. The rear panel features high-quality, gold-plated RCA inputs and shielded, gold-plated 5-way binding posts that accept any type of speaker cable. A high-current DC power jack is also used to ensure maximum power transfer to the amp. On the front panel, there's a second 3.5 mm audio input jack, as well as a 1/4" headphone jack that receives its signal from a separate, high-quality headphone amplifier stage controlled by the main volume knob. (3.5 mm to 1/4" adapter included.)
Works With ALL Your Sources
In a world of changing digital and wireless specifications, the high-quality analog design of the DTA-120 remains virtually future-proof. Just connect it to any device with a headphone output jack and begin enjoying powerful, high-quality audio through your own speakers. Short signal paths inside the amplifier preserve all the quality of the input signal, and the DTA-120 automatically switches from the rear inputs to the front input when connected. No switches to flip, and just one knob. The DTA-120 is the perfect complement to your smartphone, tablet, laptop, PC, television, or any other audio source.
Head-Fi Friendly Design
The DTA-120 is the ultimate desktop amplifier. Not only can it drive even the smallest and least-efficient speakers to almost painful levels without strain, making it perfect for powering desktop mini-monitor speakers, but it also offers a separate solid-state headphone amplifier stage capable of powering even the most demanding headphones to high listening levels while preserving clarity, detail, and a refined sonic character. However you like to listen at your desk, the DTA-120 is the perfect partner.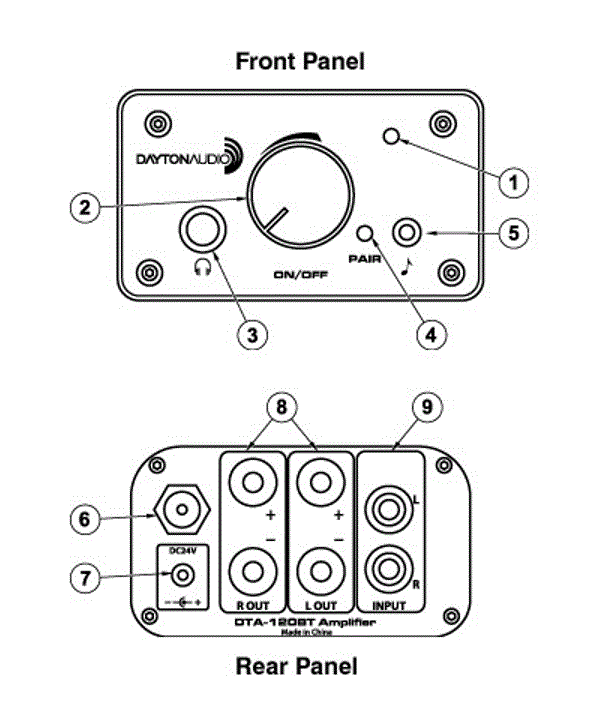 Front Panel:
1. Power LED
Blue power LED indicates the unit is receiving power and is fully operational.
2. Power/Volume Control
This control turns on the unit and adjusts the volume level of the amplifier. When the unit is turned on the power LED will become fully illuminated. To turn the unit off, turn the control fully counter clockwise until it "clicks" to the off position. It is normal for the power LED to slowly dim and then go completely out when the unit is first turned off.
3. Headphone Jack
The DTA-120 also doubles as a headphone amplifier that will drive any headphone easily and delivers colossal sound stage and effortless dynamic range. The 1/4" stereo jack allows connection of larger home and studio-style headphones. An adapter is also provided so that smaller 3.5 mm personnel style headphones can be used.
Note: When headphones are plugged into the headphone jack the speaker output connections are disconnected.
4. Pair Button (Bluetooth Version only)
Use this button to pair (and unpair) devices for Bluetooth audio streaming. When the amp is turned on, it will automatically be in the pairing mode, as indicated by the power LED flashing slowly. At this time, you can pair the DTA-120BT by selecting it in the Bluetooth menu of your mobile device. To unpair and connect to a different mobile device, press the PAIR button on the DTA-120BT to re-enter pairing mode. When initially powered on, the DTA-120BT will attempt to connect to the first available device that has been previously paired. Bluetooth connection will take priority over any other input source.
5. 3.5 mm Audio Input
The unit features a convenient front mounted 3.5 mm stereo input for quick connection of iPods, MP3 players, and other portable audio devices. A 6" 3.5 mm coiled cable that stretches to 12" is included.
Note: When a device is plugged into the 3.5 mm audio input the rear mounted RCA input jacks are disconnected. This allows the user to permanently connect a device to the rear RCA audio inputs and switch to a portable device by simply plugging into the front mounted input.
Rear Panel:
6. Bluetooth Antenna (Bluetooth Version only)
Turn this antenna to a vertical position prior to using the Bluetooth feature of the amplifier.
7. Power Connection
The DTA-120 operates on 24DVC and MUST be used with a power supply that can provide at least 5A. A world compatible (100V-240V) switch mode power supply is included with the unit and is supplied with a U.S.A. or EU style cord. To operate in other countries an appropriate power cord will need to be purchased. The power connection on the unit is a 2.5 mm x 5.5 mm jack with center pin being positive.
Note: If an inappropriate power supply is used and the unit is damaged, the warranty will be voided.
8. Speaker Outputs
The speaker output connections utilize high current binding posts that are spaced on 3/4" centers and are compatible with standard double banana plug connectors (sold separately). The connections are color coded for easy polarity identification. High quality screw-on banana plugs that will accept 10AWG-18AWG wire are included.
9. RCA-Type Audio Input
RCA-type line level input for permanent connection of larger devices such as CD players, PCs, and DVD players. An RCA to 3.5 mm adapter is also provided for added connection flexibility.
Note: When a device is plugged into the front mounted 3.5 mm input, the RCA input jacks are disconnected.